Reach more families who need you.
Pebble is a community of care providers who are dedicated to changing the postpartum care experience. Our intuitive platform allows you to easily connect to new parents in need of your services via secure video chat.
Grow your business

Earn additional revenue, receive in-person referrals, and potential to earn new state licenses at no cost.

Enjoy flexibility

Work when you want, from any private setting convenient for you. Fill unused hours in your day and earn more.

Skip the paperwork

We manage your marketing, bookings, and billing. We even provide your malpractice coverage.

Empower parents

Increase access to care for all, unbridled by location. Instill confidence by sharing your expertise.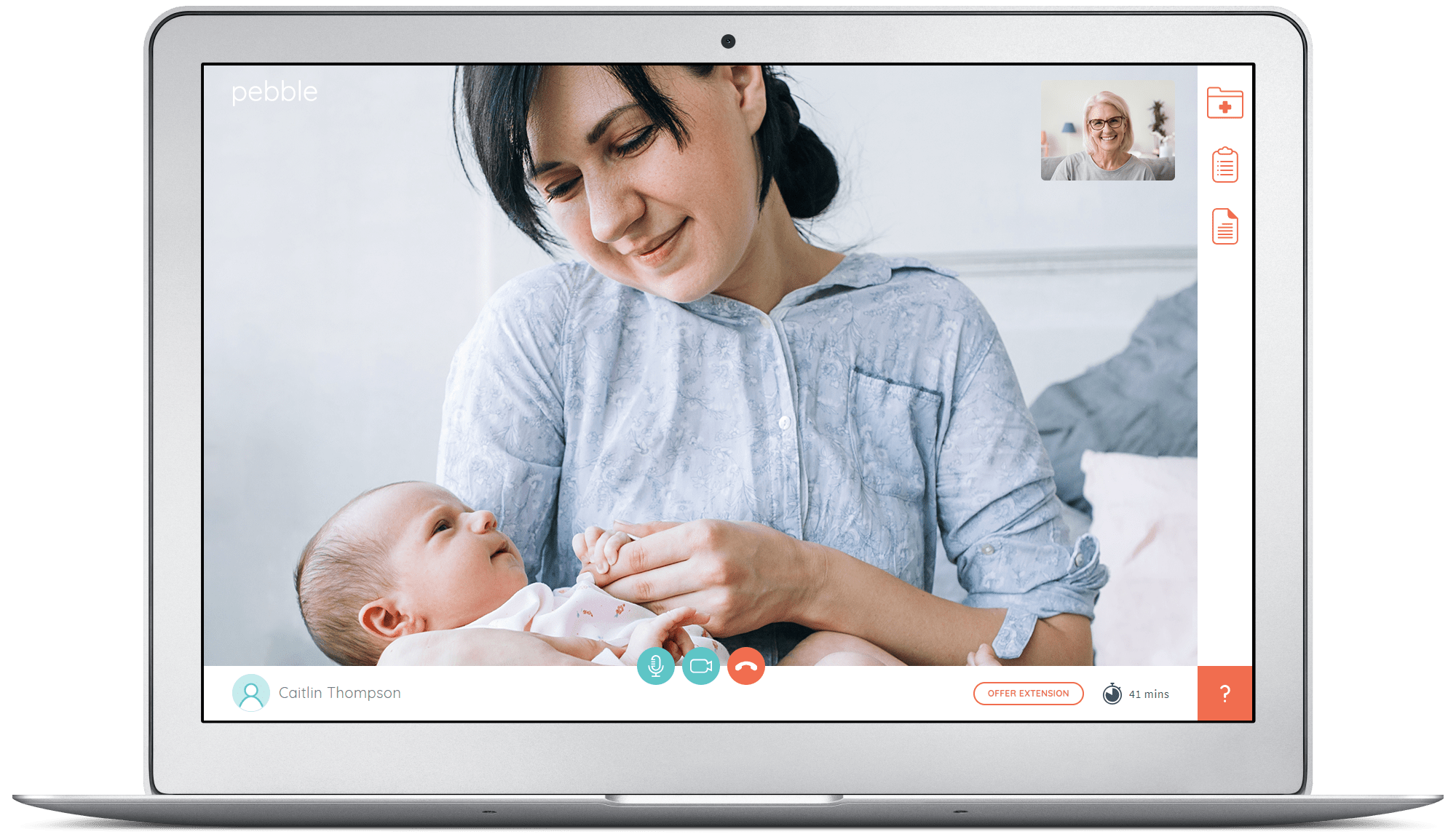 Join the nation's premier perinatal network.
Our providers are the core of our business. We pride ourselves on partnering with the top specialists in their fields and work to recruit the best talent in the nation. If you have experience with the newborn, prenatal, or postpartum period, we want to learn about you.
Our current partners:
Certified Nurse-Midwives
OB/GYNs
Board Certified Lactation Consultant
Physical Therapists
Certified Pediatric Sleep Coaches
Certified Parenting Coaches
Mental Health Professionals
Pediatricians
General / Family Health
Certified Postpartum Doulas
Dieticians
And more...
Your schedule.
Your rules.
No commitments or minimums.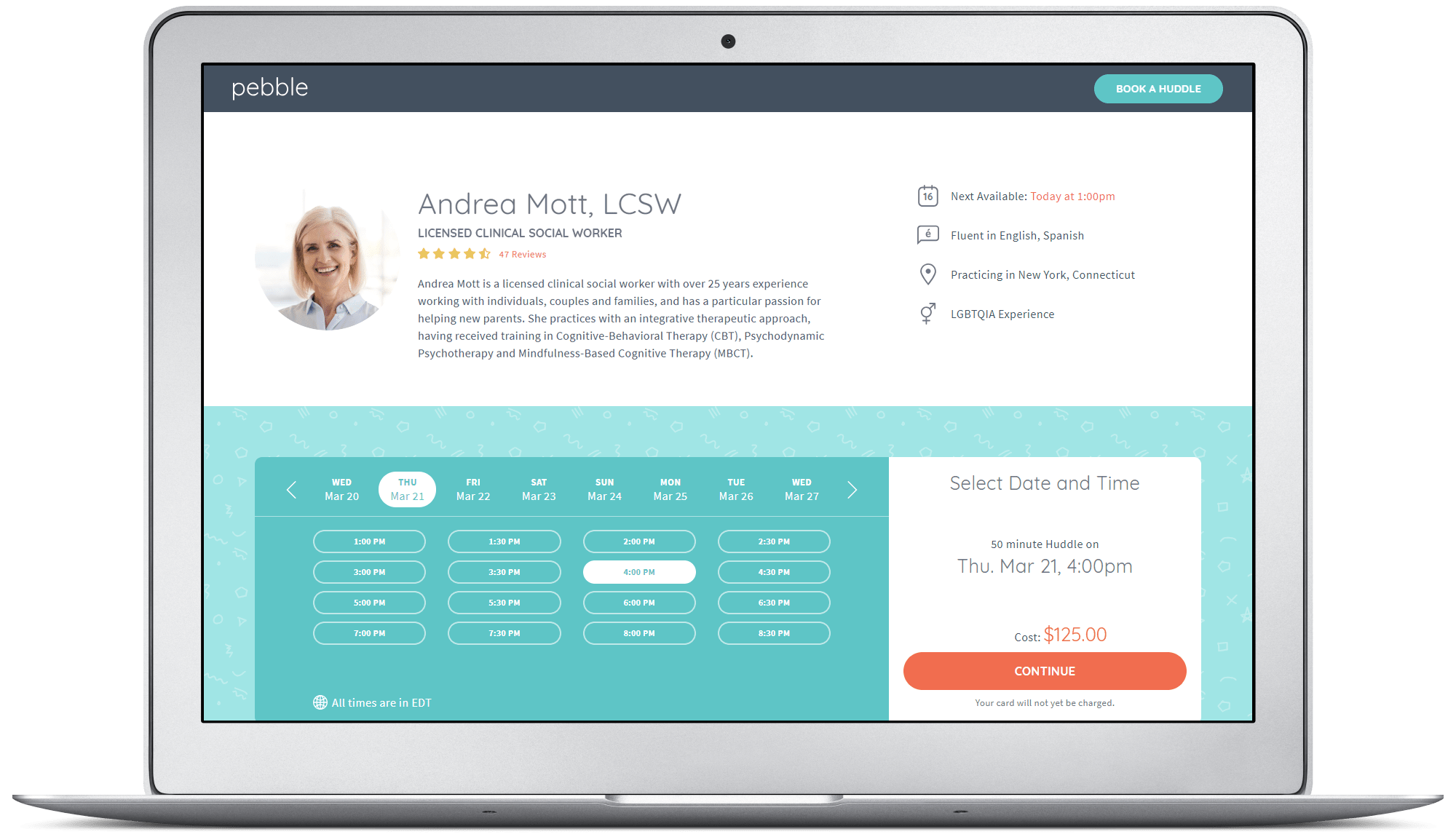 We're on a mission.
We're not shy about it. We are absolutely on a mission, and it is fundamentally what drives our business. We are here to raise the bar on postpartum healthcare. By bringing the right care, to the right place, at the right time, we can increase access and improve outcomes for families nationwide.
Frequently Asked
Pebble utilizes the convenience and accessibility of virtual care to empower families to receive the postpartum support they need, during a life-stage when mobilizing for help can prove challenging. They are recovering from birth, dependent on child care, and transitioning back to work. In fact, almost 40% of American women don't even make it to their single 6-week postpartum OB visit, let alone seek additional care needed during this transition1.

Virtual care solutions are growing rapidly, as a 2018 Deloitte survey revealed that 80% of respondents either have tried or are interested in telehealth solutions2. New parents benefit even moreso, particularly those living in remote areas with limited access to care. Virtual care allows us to meet parents where they are, and enables you to bring your expertise to more people, in more places.

---

1www.ncbi.nlm.nih.gov/pubmed/24474651

2www2.deloitte.com/insights/us/en/industry/health-care/virtual-health-care-consumer-experience-survey.html

The quality of our network is the foundation of our business, so we care to get to know our applicants. To begin, simply create an account and tell us about your specialty and areas of practice. Once submitted, you will receive an invitation to our online application and credentialing portal where your information will be reviewed by our provider advisory committee. The final step before joining our provider community involves a video interview so we can get to know you personally and learn about your experience and approach to care.

Your earning potential increases the more time you make yourself available on Pebble. With every consult through the Pebble platform we charge a standard system fee that covers the use of our technology, payment processing, etc. A detailed breakdown will be provided once you've been accepted into the network.

Payments are dispersed via direct deposit every month directly into your bank account.

One of the key benefits of joining Pebble is that we bring the parents to you! Our proprietary algorithm recommends a choice of providers based on several variables including the parent's needs and location, as well as the provider's specialties and experience.

The privacy of our community members and their personal information is of the highest importance to us. Our platform is HIPAA compliant and all data, including video, is protected through industry leading end-to-end encryption. This means your video consults with parents are completely private and are never stored on our servers.

Pebble is a web-based platform accessible on PCs, Macs, Android, and iPhone devices, through the Chrome, Safari, and Firefox browsers. No additional app downloads needed! A strong internet connection and webcam are required. For the most convenient access to all our features, we recommend using a laptop or desktop whenever possible.

Absolutely! Good people know good people. Referrals have been one of the leading ways we discover high-quality providers. It also helps further our mission to provide strong continuity of care. Thank you!

No need! Pebble behaves just like an app, but is accessed like a website. (We refer to it as a "web app.") No download means more room for the things you care about! If you have an iPhone or iPad, please use Safari. If you use Android, we recommend Chrome. Please note that for the most convenient access to all our features, we recommend all providers use a laptop or desktop when possible.